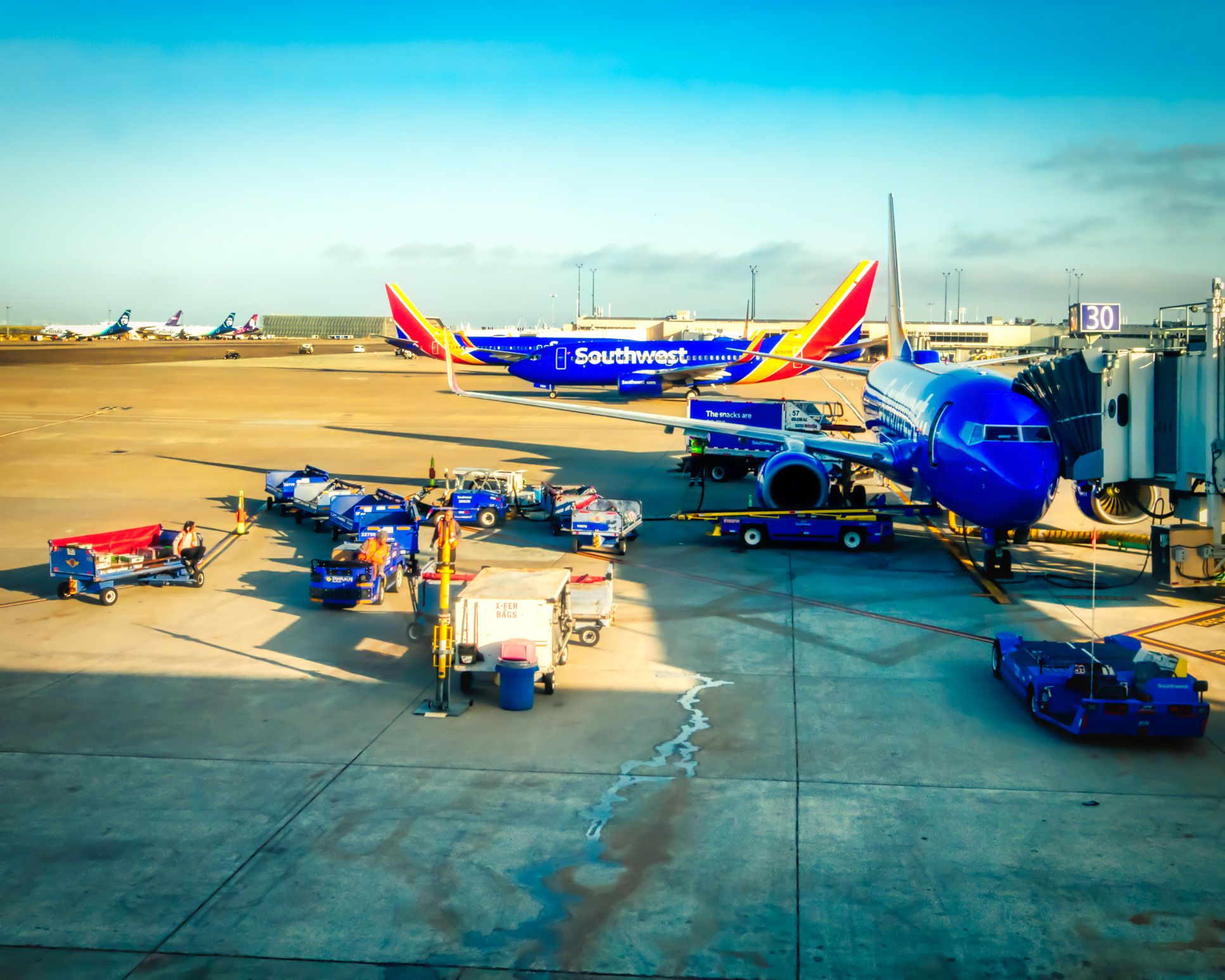 Southwest Airlines

IATA/ICAO code:

WN/SWA

Airline type:

low cost carrier

Hub:

Baltimore/Washington International Airport Thurgood Marshall Airport, Dallas Love Field, Denver International Airport, Harry Reid International Airport, Hartsfield-Jackson Atlanta International Airport, Houston Hobby Airport, Los Angeles International Airport, Midway International Airport, Oakland International Airport, Orlando International Airport, Phoenix Sky Harbor International Airport

Founded year:

1967

CEO:

Robert Jordan

Country:

America
In Nashville, Tennessee, the 9,800-member Southwest Air Pilots Association (SWAPA) conducted an information picket and made a request to Southwest Airlines management. Our customers face it every day. "
"From a company that supports its employees to a company that is supported by its employees"
Southwest Airlines photo of representatives of various Southwest Airlines employee groups posing in front of Southwest Airlines' Freedom One.Photo: Southwest Airlines
SWAPA President Casey Murray's words in a recent SWAPA podcast contrast with the days of Southwest Airlines founder Herb Kelleher. According to Inc.com, Kelleher liked to say:
If you put your employees first and treat your employees right, they will treat your customers right. … you have to treat your employees like customers.
Murray is committed to restoring the relationship in which Southwest Airlines employees are treated as Southwest Airlines customers. In protest of its deteriorating relations, SWAPA members carried out information picketing with signs such as "Cultural Exploitation is Now Southwest Culture" and "Southwest Operations: From First to Worst." I was.
\nPhoto: SWAPA"" data-modal-id="single-image-modal" data-modal-container-id="single-image-modal-container" data-img-caption="""">
SWAPA photo from information picket on Sept. 21

Photo: Swapa
When asked by Murray to substantiate his claim that Southwest Airlines is now an employee-backed company, Murray said his biggest problem was:
Human capital problems cannot be fixed. We need to support those employees. … every frontline employee must be given the tools to do their job.
Southwest Airlines management invests only in human capital, such as hiring and training new talent, not in tools such as iPads for flight attendants or new equipment for ground crew. Airlines seem to be driven by their employees rather than by Herb Kelleher's idealism.
Other major issues for SWAPA members, according to a recent newsletter, include:
Pilots worked 20,000 days unconsciously last year
150 public complaints and company interpretations that border on absurdity
947 days from the start of negotiations, only 1 out of 25 lots [reaching an agreement in principle]
1,221 WARN, Multi-Million Dollar Bonuses for 2020 Executives [ Worker Adjustment and Retraining Notification] Notification delivered [warning of potential layoff]
8 of 12 union agreements are now open
Flight Benefits Earned by Persons Receiving Medical Care
These issues help explain why information picketing is happening, as we discussed earlier in Simple Flying. As Murray said on a recent "The SWAPA Number" podcast episode:
Pilots and other frontline employees have been dismantled by those tasked with weaponizing and monetizing the culture of employment, protecting and nurturing it. They can no longer pretend that what they are cultivating is an environment that promotes the values ​​they claim to uphold.

. .

Doing a picket is trying to put some pressure on us when we stand in front of the public and tell them we know why we're here. We are there because we are there. And we want to tell them that we are not satisfied with the surgery or our culture.
In response to the information picket event, a Southwest Airlines spokesperson said:
Southwest Airlines respects the right of employees to express their opinions. For over 51 years, we award-winning Southwest Culture honors and celebrates over 62,000 valued employees.
SWAPA upset about deadheading's costly growth
I wonder how many Southwest Airlines pilots are stuck in this photo.Photo: Joe Kunzler | Simple Flying
SWAPA is deeply concerned about some specific workplace issues such as deadlock and fatigue. For example, according to Murray, who was kindly interviewed by Simple Flying before picket:
Over the past five years, we've seen the network grow beyond the process Southwest uses to connect pilots to planes. …one of our main focuses [contract] A rewrite is an attempt to address some of these inefficiencies.
Southwest scaling for 2017 vs. 2022 seems appropriate. According to Southwest Airlines' May 22, 2017 statement, Southwest Airlines serves 101 airports in the United States and airports in eight other countries. In a September 11, 2022 statement, Southwest claimed to serve 121 airports in 10 countries and the United States.
Nevertheless, with 121 connecting airports, Southwest had problems assigning pilots to flights. According to Murray, deadheading, or pilots connecting to another flight as a passenger and actually flying another flight, has gone from 75 per day for him to 1,500 per day. Up to 66% of these deadheads can fail. A huge number, considering all pilot deadheads stay out of their private lives and generate no revenue.
Around October 11, 2021 (Columbus Day), over 1,100 pilots on duty flew a Southwest Airlines Boeing 737 aircraft without actually touching the yoke and throttle. Also note that Southwest Airlines invests about $50,000 per pilot in training Southwest Airlines. According to SWAPA, this is the severity of the deadlock problem.
Murray attributes the deadlock problem to a scheduling system developed in 1994. The system predates some major US federal regulations.
Fatigue is also a problem for Southwest Airlines pilots
\nPhoto: spablab
via Flickr<\/a>"" data-modal-id="single-image-modal" data-modal-container-id="single-image-modal-container" data-img-caption="""">
A Southwest Airlines plane in the night sky.

Photo: Spalab via Flickr